So I tried to do a sponge gradient for the first time ever.... haha. Well... Let me just show you.
left hand
right hand
left hand again
I don't hate them... but I can definitely say I don't love them, and I need practice on the sponging ombre front. I did go back and add a little gem to the ring finger on the outer corner, and I liked that a little more... but... still. In case anybody cares, the colors I used is Clinique Cool Taupe, and China Glaze White on White.
I used an eyeshadow applicator thing to do the ombre instead of a sponge or anything because I didn't have any sponges... I actually liked the eyeshadow applicator, but I will have to do some trial and error before I settle on which I like best. Shown below is kind of what I used: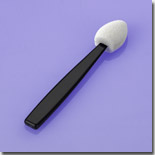 Any tips on how to make the gradient more gradual, or how to make it all around... just better??? Help!